Preparing Your Wedding Liturgy
A walk through the liturgy: Liturgy of the Word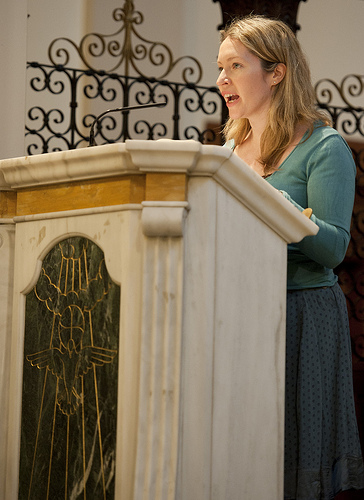 Preparing your Wedding Liturgy
Readings from scripture are common to every liturgy. In the wedding liturgy they speak of God's love and the place of marriage in his plan for humanity.
The form of the Liturgy of the Word is the same for Weddings with or without Mass. When a Catholic marries someone who is not-baptised there can be just one reading.
Description
If there are three readings (First, Second, Gospel) the First reading is usually taken from the Old Testament, If there are only two readings (First, Gospel) the first may be taken from either the Old or New Testament. The readings are proclaimed from the ambo on the sanctuary.
The First reading is followed by the Responsorial Psalm where everyone sings a common response and verses from the psalms are sung by a cantor.
If there is a Second reading (taken from the New Testament) this follows.
There is then the Gospel Acclamation or Alleluia, which is sung by all before the Gospel.
The Gospel is then proclaimed by the Priest or Deacon. And after this there is the homily in which the Priest opens up the scripture and makes connections with married life.
Choices
Decisions about what readings to have will be one of the primary areas for you to choose aspects of the wedding. The Church gives a selection of readings to choose from in the Lectionary. The Priest will guide you through these decisions.
There is the number of readings:
Structure
Liturgy of the Word

| | |
| --- | --- |
| First Reading | First Reading |
| Responsorial Psalm | Responsorial Psalm |
| Second Reading | |
| Gospel Acclamation | Gospel Acclamation |
| Gospel | Gospel |
Then there is the choice of particular readings. One of the readings chosen should speak explicitly about marriage.
Who reads the scripture passages will also be important. A good reader will help engage people in the text.
Music
As indicated in the description both the Responsorial Psalm and the Gospel Acclamation are intended to be sung. If there were a priority for singing it would be the Gospel Acclamation or Alleluia over the Psalm.
More Information