Liturgy Office
England & Wales
The Liturgy Office serves the work of the Department for Christian Life and Worship of the Catholic Bishops' Conference of England and Wales providing resources, information and advice.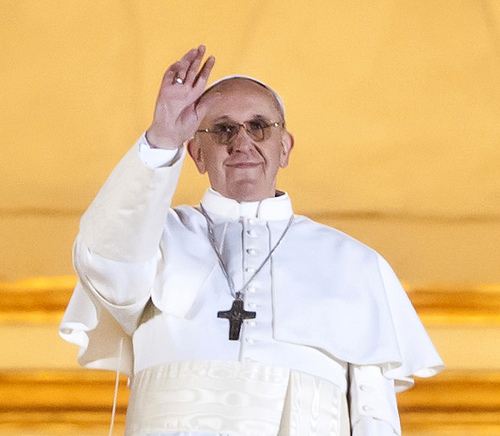 O God, who in your providential design
willed that your Church be built
upon blessed Peter, whom you set over the other Apostles,
look with favour, we pray, on Francis our Pope
and grant that he, whom you have made Peter's successor,
may be for your people a visible source and foundation
of unity in faith and of communion.
Through our Lord Jesus Christ, your Son,
who lives and reigns with you in the unity of the Holy Spirit,
one God, for ever and ever.
Amen.
Holy Mary, Mother of God, pray for us.
St Peter, pray for us
St Paul, pray for us
St Francis, pray for us
All holy men and women, pray for us
Cycle of Prayer — Easter
New Members of the Church

Vocations

especially on World Day of Prayer for Vocations (4th Sunday of Easter)

Human Work

Especially on St Joseph the Worker (1 May)

Right Use of the Media

especially on World Communications Day (The Ascension of the Lord)

The Church

especially at Pentecost
Resources for the Year which begins on 11 October 2012 and ends on 24 November 2013.
Roman Missal
Visit the Roman Missal website
Resources
Contact Details
Department Secretary:

Fr Paul Gunter OSB

Department Assistant Secretary & Director Liturgy Office:

Mr Martin Foster

Admin Assistant:

Mr Steve Gammans
Liturgy Office
39 Eccleston Square
London SW1V 1PL
020 7901 4850
020 7901 4821 fax
Department for Christian Life and Worship
Search

Many of the files on this website are in Adobe Acrobat (pdf) format. They require version 5 or above.

The Department for Christian Life and Worship is one of the six Departments of the Catholic Bishops' Conference of England and Wales. It is advised by three Committees: