Preparing Your Wedding Liturgy
Choosing Music: Solo or Choir pieces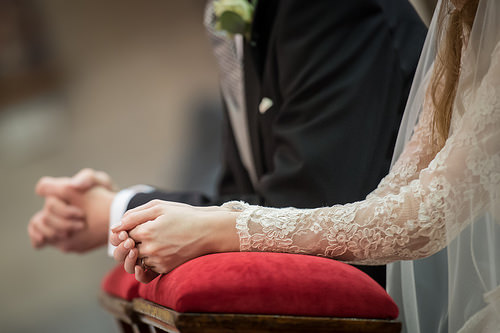 Preparing your Wedding Liturgy
At many weddings the participation of a cantor, soloist or choir can support the singing of the congregation as well bring the delight of solo sung pieces to the liturgy. These can provide moments of repose and reflection in the liturgy. A choir can also enhance and embellish the singing of a congregation through descants and harmony parts.
Ideally there should be a link between the text of any solo piece and the liturgy — the themes suggested for hymns will provide some guidance. To offer an example: there may be a number of beautiful settings of Pie Jesu but the text is used at Funerals as a prayer for the deceased. It may be necessary to consider the guidance on the use of secular music.
Ministry
Many parishes will have choirs or soloists who are happy to come and sing at weddings. In some places the organist will have singers that they can call upon.
Sometimes a member of the family will be an accomplished singer and be happy to contribute to the occasion. Make sure that the organist is aware and put them in contact so that they can rehearse as necessary. Good singers will want to know the acoustic of the church, the distance from the accompanist and what sightlines there are and be prepared to have a rehearsal. Do not feel obliged to accept every offer unless you are assured that it will add to the quality of the liturgical celebration and the glory of God.
Signing of the Register
This usually takes place at the conclusion of the Liturgy. While register is being signed there will be time for a solo or choir piece. This will be the case whatever the form of the liturgy — with or without Mass.
Weddings within Mass
There are a number of places where a choir or a soloist may sing. As noted above a choir may sing the Gloria. A solo or choir piece may replace a hymn at the Preparation of Gifts or after Communion.
Weddings without Mass
Outside the Signing of the Register there is not an clear place for another choral motet (etc.) Perhaps in the same way that at Mass the solo piece replaces a hymn at, for example the Preparation of Gifts, a solo piece or motet could possibly be sung in place of the hymn at the end of the Rite of Marriage.