Preparing Your Wedding Liturgy
The Different Forms of Wedding Liturgy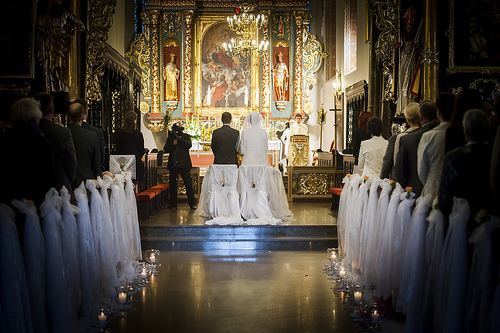 Preparing your Wedding Liturgy
The Order of Celebrating Matrimony provides 3 main forms of liturgy:
Order of Celebrating Matrimony within Mass

Order of Celebrating Matrimony without Mass

Order of Celebrating Matrimony between a Catholic and a Catechumen or a Non-Christian
The choice of which liturgy to use will be made with the Priest or Deacon. What follows explains why there is a need for different forms of liturgy.
The first form - within Mass - is intended when both bride and groom are baptised Catholics and therefore can fully participate in the Mass.

The second form - without Mass - is intended for when one of the couple is a baptised Catholic and the other is baptised Christian (i.e. a member of another Christian denomination).

The third form is, as the title suggests, when a baptised Catholic marries someone who is not baptised (a Catechumen is an adult who is preparing for baptism in the Catholic Church).
For many Catholics the most familiar form of liturgy is the Mass and there can be an expectation therefore that when we celebrate Marriage it is in the context of Mass. However a Marriage without Mass is a perfectly valid and full form of Catholic liturgy. The reason that the Church offers a number of different forms of liturgy is to respect the integrity of the couple and how much people can participate in the liturgy.
It can be that a baptised Catholic who is marrying a non-Catholic wishes to celebrate the wedding within Mass. However in this context it may be helpful to think about the reception of Holy Communion. Holy Communion may be received by baptised Catholics who are in a state of grace - it is a sign not just of belief in the presence of Jesus on the Sacrament but also a sign of communion with the Church. If at the wedding celebration only one side of the church goes to receive Holy Communion what should be a time of communion and unity can become a moment of disunity, emphasising separation.