Preparing Your Wedding Liturgy
Decorating the Church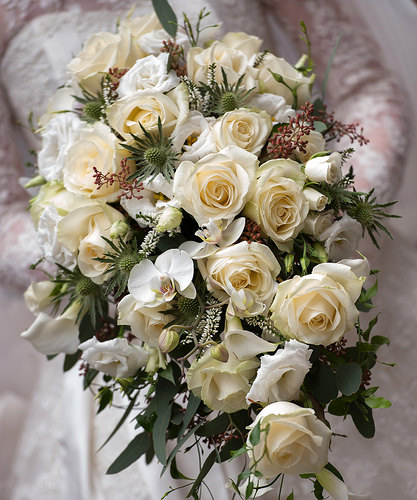 Preparing your Wedding Liturgy
Today many couples will have a colour scheme for their wedding and a desire to carry this through from Church to Reception/ They will therefore employ florists to bring their gifts to enhance the celebration. Many parishes will also have skilled people in this area who will be happy to help and will bring their knowledge of the building as a whole and what works well.
From a liturgical and pastoral point of view the following points should be bourne in mind.
Any decoration should enhance and highlight the focal points of the liturgical space, such as ambo and altar.
But care should be taken so that the altar and ambo (etc.) are not hidden by any display.
The decoration should take into account the season of the Liturgical Year. For example, it should be more subued in Advent and Lent, more exuberant in Christmas and Easter.
Avoid excessive decoration which tries to make the church into another space.
Be authentic — lots of candles can be beautiful at a dark December wedding, but make little or no impact on a bright summer's day.
Make sure that routes are not blocked and sightlines are not obscured.
Though many will wish to take the arrangements to the reception; some parishes encourage couples to leave them as a gift to the church so that they will beautify the Sunday liturgy.
Make sure that any fixtures or furniture which might have been moved is returned to where it came from so that the church can celebrate the Sunday liturgy with ease.