Roman Missal — Resources
Frequently Asked Questions:
Become One Body One Spirit in Christ
Commercial Resources
This page will list commercially available resources to assist parishes with the introduction of the Missal.
Understanding the Revised Mass texts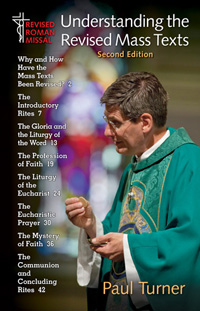 Publication details

by Paul Turner
published by LTP/McCrimmons
New words… deeper meaning, same Mass.
You may have heard that there will be some changes to what we hear and say at Mass. Mass will remain the same, but some of the words will be different.
Written by Paul Turner, a priest of the diocese of Kansas City-St. Joseph, this booklet provides a brief yet deep explanation of how and why the prayers and responses of the Mass are changing. It will help you understand these new words so that you will be able to participate at Mass when the translation is ready to use.
"Readers will find Fr Paul Turner's explanation of the new translation both informative and insightful. More than that, I hope this excellent booklet will draw people more deeply into the celebration of the Mass which is in the heart of our faith. I am grateful to LTP and McCrimmons for making this anglicised edition available as we prepare for the new translation of the Missal."