Roman Missal — Resources
Press Releases
Become One Body One Spirit in Christ
Resources
Frequently Asked Questions:
Become One Body One Spirit in Christ
Interactive DVD resource for the Roman Missal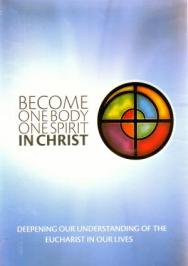 Become One Body One Spirit In Christ is an interactive DVD, for use on computers, which explores the depth, richness, and layers of meaning of the liturgical texts of the Roman Missal.
Five commissioned foundational essays provide the themes and pathways of this resource which uses video, text, graphics and music to help the user enrich their understanding and deepen their appreciation of the Eucharist.
Filmed in churches and cathedrals in the USA, Ireland, England, Scotland, Australia, New Zealand, Canada and South Africa and with expert commentary from translators, academics, liturgical consultants and practitioners, this beautifully produced resource evokes biblical imagery which is foundational to these texts.
Designed for a range of audiences including Priests and Deacons, Liturgical Ministers, Educators and Catechists, Parishioners, including families and adult faith groups, for the whole Catholic community.
Purchasing Become One Body One Spirit in Christ
The interactive DVD is now available for purchase from the Bishops' Conference website.
Contents
There are five pathways on
Become One Body One Spirit in Christ
:
Exploring the Mass:

the Scriptural Foundations of the Mass in the life, death and resurrection of Jesus; a timeline tracing the Evolution of the Mass; Theological Reflections on key aspects of the Church's teaching on the Mass.

Receiving this English Translation:

the principles and guidelines that inform the Translator's Task; particular Issues of Translation such as revealing the scriptural basis of many of the prayers in the Missal; insights into the Changes to the Text of the Order of Mass; a recognition of the various Challenges and Opportunities that the new translation offers.

Crafting the Art of Liturgy:

an invitation to rediscover the Liturgy as Art; to consider the elements of Liturgical Prayer; to reflect on Liturgical Ministries — ordained and lay; to look at Art in the Liturgy through the use of liturgical space and objects; to participate in the Chanting of Prayer.

Celebrating the Eucharist:

the introduction of the new translation provides an opportunity to develop good practice in liturgical celebrations. As we respond to God's invitation in the Introductory Rites; listen to his Word in the Liturgy of the Word; offer him thanks and praise in the Liturgy of Eucharist; and are sent forth in the Concluding Rites to glorify him in our lives.

Living a Eucharistic Life:

At the end of each Mass we are sent forth — Dismissal for Mission; through the prayers and action of the Mass we learn that What we Pray and Believe shapes our Lives; indeed every celebration of Mass is a Renewal of Hope that God offers us.
Resources