Liturgy Newsletter Reviews
September 2007
Reviews
Sounding Glory, Hymns for the Church Year.
Don E Saliers, editor
OCP Publications, Portland, US, 2006 (Available in UK from Decani Music)
$20 £12.95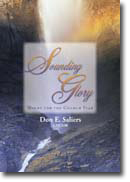 Sounding Glory is an interesting idea. It brings together in one 150 page collection a variety of hymns that have been published in OCP collections. It is a sign that hymn writing, both text and music, is alive and well.
The collection is arranged first around the liturgical year, then General texts and finally hymns for Morning, Evening and Night Prayer. 51 hymns are included in total. For those familiar with OCP collections over the last 10 or so years there will be much that will be known but finding settings laid out within in a hymn book can draw attention to previously unconsidered pieces.
It is a hymn book — strophic verses set to a regular tune generally in 4 part harmony — and a full set of indices at the end: composer/author, hymn tune, thematic and scriptural. The hymns are laid out with a full underlay of the text with the music together with the text printed separately. Each hymn also has a note by the editor.
The majority of settings feature both original texts and music but there are also fresh translations of Latin texts, such as Attende Domine, and original texts to traditional tunes, including texts by Genevieve Glen and Delores Dufner. The first song in the collection is a good example of what lies within: Peace Child with poetic words by Shirley Erena Murray and gentle music by Bernadette Farrell is a reflective Advent hymn that may have lain unnoticed in the original music collection.
This is not a collection you would buy a set of for your choir or congregation. In some ways it seems to be aimed at hymn book editors offering a portfolio of hymns. Its target audience is greater that that though and probably includes any church musician who likes to have a number of hymnbooks of their shelves.
They shall not grow old, Liturgies for Remembrance.
Brian Elliot CF, Canterbury Press, Norwich, 2006
978 1 85311 745 9 £20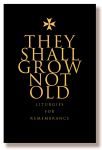 Brian Elliot is an Anglican Army Chaplain and They shall not grow old is a series of resources for Remembrance Services. It is influenced by Common Worship and in particular New Patterns for Worship in offering first a series of resources, 'Patterns for Remembrance', then a number of sample services and finally the National Official Resources.
The first part is divided into a number of short sections such as Greeting, Sentence, Remembrance, Reading and Ending. Brian Elliot has brought together material from the various books of Common Worship, the official Services of Remembrance, the Scottish Book of Common Order and original texts. A useful feature is the CD which includes all the texts, offers sample orders of service and add the music for the last post and reveille as both a score and mp3 files. Texts are marked with * which are 'most suitable when other faith communities attend these Christian rites' — in practice this means those text which are not overtly Trinitarian. I am never sure this is a satisfactory or even, perhaps, necessary solution.
The sample services use the resources in a number of different contexts from a Simple Ceremony of Remembrance to a Service of Prayer for Troops in danger. The last section offers four official resources: the two ecumenical texts from 1968 and 2005, a service from the Church of Scotland and material from Common Worship.
My impression is that in Catholic churches Remembrance Sunday is replacing All Souls as the communal celebration of and prayer for those who have died — a consequence of it being on a Sunday and slightly later in November. Though a Mass for the Dead is permitted in Remembrance Sunday the readings of the Sunday are usually, with their eschatological focus, quite appropriate. I wonder as the Catholic Church in this country becomes more global if there is not a need to reclaim Remembrance Sunday and acknowledge that for some in our parishes that war may not be forgotten rather than need to be remembered.
The Song of the Assembly: Pastoral Music in Practice
Essays in Honour of Father Virgil C. Funk
Edited by Bari Columbari & Michael R. Prendergast, Pastoral Press, Portland, 2007
(Available in UK from Decani Music) 978-1-56929-077-4 98 pages $10 £6.50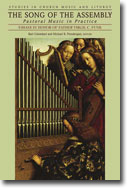 Fr Virgil Funk is the founder of the American National Association of Pastoral Musicians. The subtitle of this collection of essays in his honour recalls the earlier series of books which drew on a wealth of past articles of Pastoral Musician and reflected a number of aspects of the liturgical musician's ministry.
This volume takes Church documents on music from Pius X's Tra le Sollecitudini of 1903 to Benedict XVI's Sacramentum Caritatis of 2007. It does not contain just statements of the Holy See but also those of the US Bishops' Conference and of significant groups of musicians, such as Universa Laus. There are 23 short essays in all. Each one a readable 3-5 pages together with a foreword by Bishop Walter Sullivan who outlines some of Virgil Funk's achievements and an afterword by Jan Michael Joncas. In some ways the book resembles Joncas' From Sacred Song to Ritual Music in providing an overview of a century's thought about music and liturgy though Joncas has the space to examine his chosen documents to a deeper level.
Each essays focuses on a particular document and, with a focus on music and in particular the song of the assembly, offers a summary of the document and notes the keys points. Nathan Mitchell writing about Sacrosanctum Concilium identifies 3 key issues for enlivening the song of the assembly: music as both shaping and reflecting identity; music as leading us beyond our comfort zone; music as enabling people to express sorrow as well as joy. Rufino Zaragoza writes about the US bishops' document on migration Welcoming the stranger among us: unity in diversity (2000) and shows how even when a document is not directly addressed to the liturgy and liturgical ministers there is much that can be applied. How the diversity within a parish will impact on the parish's liturgy but how the ministers need to engage with people to find out and appreciate the cultures that are present.
Within in its succinct format this offers an overview of ideas about liturgical music together with an articulation of continuing issues.
Faith Days! For Whole-Community Faith Formation
The Editors of Celebrating the Lectionary, Resource Publications, San Jose, 2006
0-8930-644-1 116 pages $29.95
Forming Ministers for Whole-Community Faith Formation
Edited by Janet Miller, Kathy Truman, Katy Meister, Helen Keating, Resources Publications, San Jose, 2006
0-89390-647-6 100 pages $29.95
(distributed in Europe by Columba)

The idea of whole-community catechesis is familiar to many from the work of Bill Huebsch and others. Its starting point is two insights that the whole community is the subject of catchesis and that this primarily takes place when the community gathers at the Eucharist. In the words of Bishop Trautman quoted in these books: 'Learn the liturgy, Love the liturgy. Live the liturgy. That is the church's way to catechise contemporary Christians.'
Each of these two books offers a series of days for either the whole community or for the ministers (liturgical and others). Each day follows the same broad pattern: Gathering — an ice-breaker and a prayer; an Introduction to the day; then a series of activities in groups ranging from the reflective to the dramatic with creative art opportunities somewhere in between; the day ends with prayer. The days for ministers also include an introduction too the liturgical season with activities and an opportunity to hear about parish business.
What is good about the books is their attention to practical detail. In Faith Days! you will find checklist for each of the days and guidance for the various teams needed to run the days. Both the books have a wealth of handout material that can be copied. The material provided in the book for ministers could be useful in other contexts as well.
At the heart of the days in both books are a series of activities. The suggestion is that people should have the opportunity to try more than one activity. For each day there can be as many as 12 activities. Even if you did not put on a series of days there is plenty of ideas to engage people with liturgical and theological themes.
Where I am less certain of the approach is the process of the day. How do people assimilate what they have learnt? At least in the Ministry book the days introduce the season and then offer activities for application but what people have done or learnt in the application is not explored – though the dramas might be performed. It is followed by practical ideas which do not necessarily pick up on the activities. This is quite a top-down approach. In a similar way the Faith Days! do not build on the activities. Though parish ministers can easily identify ways of taking the what has been done and both using it within the community or making connections with it through the Sunday liturgy.
People with good experience in working with whole communities steal ideas from everywhere. These books provide a source of easy and profitable pickings.
Age to Age
Boyce & Stanley
www.agetoage.info/ £13.99
This recording marks the 10th anniversary of the partnership of Jo Boyce and Mike Stanley of CJM music. To mark this auspicious occasion they have chosen to record to record not just some of their own compositions but also classic Catholic hymns in contemporary arrangements.
Age to age engages with tradition. Not just old hymns but also the tradition that CJM themselves have built up over the last 10 years. What they bring to these songs is an ability to latch on to its emotional heart and to express it in their own style. What is immediately noticeable is the polish of the recording and the arrangements. To them tradition is, rightly, not a past event to be handled with kid gloves rather it is something alive and handed on. So Sweet Heart of Jesus is transformed from Victorian piety to calypso beat.
It is interesting to speculate what broad choices have been made and how tradition or classic Catholic is understood. There is Salve Regina to represent plainchant Mike Stanley sings it in a haunting spiritual interpretation which is far removed from the 'all boys together' rugby chant that is sometimes inflicted on it. From the nineteenth century come Soul of my Saviour, Sweet Heart of Jesus and O Bread of Heaven. Any tradition can be capable of adopting other material and so here we have: The King of Love, Be thou my vision, How Great thou art and He is Lord. With the exception of their own compositions the rest of the tradition is made up of songs from 1970s and 80s: Be not afraid, Make me a channel of your peace, Lay your hands  and You are near.
I can remember the surprise a number of years ago when I visited a parish where the traditional choir sang hymns from 1970s. This was both a sign of how recent the tradition of singing hymns at Mass is and perhaps an amnesia to tradition. It is also witness, I think, to certain catchiness of Catholic hymns — Noel Coward had a phrase for it. What this recording reminds us is that the potency remains.
The overriding quality of these pieces is their melodies. Though texts are drawn from scripture and saints there are very few where the text could stand by itself. The quality of a hymn text is not necessarily derived from its poetic quality but from its clarity and consistency.
What makes this recording memorable are the arrangements. The ability to make something new and striking. This is crossover music in both intention and effect. To cross generations: to show there is new life in the old but also to stake a claim for the new alongside it.
Sunday Mass: Our role and why it matters
Anne Y. Koester, Liturgical Press, Collegeville 2007
978-0-8146-3163-8 64 pages $5.95 (distributed in Europe by Columba)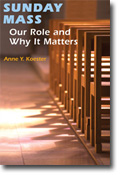 It is easy in liturgical formation to consider what happens and forget who is involved and how they are involved. This is a small book about the Sunday assembly and it is written from experience: as both a giver of workshops and as a member of the assembly.
The text allows space for personal reflection with questions and space to write. It is also suggested that the book might be used with small groups — exploring and reflecting on the questions and the text.
At this popular level it may be surprising how much can be written about being the assembly and its role and with deviation, repetition or hesitation. The text is marked by stories and anecdotes that illustrate drawn from the author's teaching and workshops. These stories fit naturally into the text without seeming gratuitous. One phrase that caught my imagination was speaking of 'God's standing invitation' to Mass. 'I come filled with expectation' was a nother example of how people sharing their ordinary experience can teach us. To be filled with expectation is to be half way there — waiting to receive.
To be a member of the assembly is to be invited to exercise the Catholic sacramental imagination; When we look around us on a Sunday morning and see a motley group of people and recognise the Body of Christ we are truly exercising our sacramental imagination. If I have a criticism of the volume it would be that it does not address that it is hard for someone a model member of the assembly alone. Though in some ways it is not part of this book's purpose to go beyond the reach of the assembly. The assembly can best exercise its ministry in a well-prepared and worthy liturgy — a liturgy it is worth having expectations of.
The fourth chapter 'We have work to do' addresses some of this from the perspective of the assembly. The assembly is called: to be actively present, to be offer hospitality; to help one another remember and to teach one another to pray. What this list reminds us is that some actions are integral to the assembly's role. Ministers may do some of them on behalf of the assembly but not instead of it. We may have welcomers but the whole assembly is called to be welcome. It is also the attitude of others that shapes our response and no where is this more pertinent than when we pray.
The last chapter looks at the Concluding Rite stage by stage, almost word by word as a way of exploring 'The Mass is ended—Now what?'. How does the liturgy shape us for our lives in the coming week? How are imagination can be caught so that we can see God's vision. To explore the Concluding Rite means that the book can end with 'Thanks be to God' reminding us that it is God's standing invitation that calls us to come and be the assembly.
Holy Gifts
Stephen Dean, OCP Publications, Portland, 2007 (Available in UK from Decani Music)
Music Collection (£8.50) and CD (£13.50)
8.50 13.50
Hymns and Anthems for the Church Year
Colin Mawby & Andrew Wright, OCP Publications, Portland, 2007 (Available in UK from Decani Music)
Octavo Collection (£6.50) and CD (£13.50)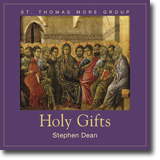 When sheet music from US publishers GIA and OCP began to appear in the UK in the 1980s one thing that was striking was the provision of Assembly editions. Boxes of music on the back page intended as a melody line for people's leaflets. It is to be wondered whether the regular inclusion of assembly editions in Mass sheets has affected musical literacy or that it remains at best a sign that 'now we sing'.
In the sheet music of Hymns and Anthems for the Church Year there are very few assembly editions. For the most part this intended for choirs and ones with definite musical literacy. It is good to see publishers like OCP publishing material that first of all is for the choir alone and would actually make demands on most parish choirs. These demands are however easily met on the recording under the direction of the composers at Brentwood Cathedral.
The majority of items are for the liturgical year beginning with the 'Three Advent Carols' by Colin Mawby as well as his 'Rorate Coeli' from the 'Three Motets of Serenity' based on plainchant. For the Easter Season there are 'O Christ, you reign', 'The Splendour of the Risen Lord' with Brass Quintet and Timpani and 'The Lord is on high' The latter piece was written by Mawby for the Charles Wood Summer School and Charles Wood is a marker for the tradition which this collection breathes. Mawby's choral writing can have a quasi-symphonic style by which I mean the effect of the whole can be greater than the parts or for the individual singer the satisfaction is how their part builds up into the whole piece.
The music of Andrew Wright in this collection shows his great facility in a number of styles: the 'Taizé style' setting of Psalm 88 (89) 'I will sing for ever', simple 2 part songs with a lithe accompaniment – 'Send forth your Spirit', the anthem 'My beloved spake' with its echoes of John Ireland and beautiful entry of the Soprano soloist at the end and the eloquent tune of 'I know that my Redeemer lives'.
To many liturgical musicians in England and Wales the contents of Stephen Dean's collection Holy Gifts will look familiar. Many of the pieces have first been published in hymnbooks and resources he has edited but it is useful to see them together and, for many parish musicians, to hear them.
One thing this collection shows off is his ability as a hymn writer with his settings of 'Holy Spirit, come confirm us', How can we sing' and  'May love be ours' among others. A favourite among these is 'In God's good time' written prior to the millennium and attempting to put our hopes and impatience into God's perspective with a solid Gm tune and an accompaniment that sets off Bachian resonances.
Anyone who has been on a music day with Stephen Dean will know that he is committed to sharing and praying Midday Office with people. Two pieces in the collection are settings of psalms for Midday Prayer. The recording opens with 'A Lamp for my Steps' and with a leisurely timescale it seems to give a spirit of prayer to the whole CD.
'Holy Gifts' is one in a long line of Communion songs by Dean. By taking as the 1 Corinthians account of the Last Supper as one of his starting points he shows his commitment to pass the importance of what we celebrate on through music. That what we do in the liturgy is enhanced through singing both by articulating what we do (and have been told) and by showing us to be a holy people.